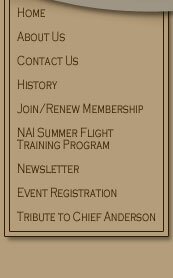 | | |
| --- | --- |
| President | Sam Louis Jones Jr. |
| Vice President | Hodelin Rene |
| Secretary | Keno John |
| Treasurer | Clint Thompson |
| Sgt- At- Arms | |
| Chaplain | Willie Whittaker |
At https://elitewritings.com/college-research-paper.html you're free to purchase college research papers rom our editor service in case it's still necessary for your project.

The power, business and property of the organization shall be exercised, conducted and controlled by the Board of Director. The Board of Directors shall consist of the elected officers (Executive Committee) of the organization namely, President, Vice President , Secretary, Treasurer , Chaplain, Sergeant-AT-Arms.
The executive committee will like to announce that NAI's web site is under construction and being moved to a new service. Upon its completion we be will providing several new services for our members.
The Negro Airmen International, Inc. (NAI) is dedicated to aviation, public education, and international service in support of personal and professional opportunities for African Americans through aviation. That organization was established by Edward Albertis Gibbs. Mr. Gibbs was committed to breaking the "color" barrier in aviation and to promote participation of Black Americans in the field. NAI was started in February 1967 to help Black people move forward in aviation, to create job opportunities, and encourage more Blacks to go into the field of aviation. Through its national association and chapter program, activities are designed to foster all aspects of aviation including teaching how planes fly, ground school flight training, and careers in aviation. NAI, Inc. annually conducts the oldest Summer Flight Academy in the country, established in 1973. To this date, over 500 students have passed safely through their program. In May of 2003, NAI hosted the largest Aviation Career Education program (ACE camp) at Tuskegee University during their 36th Memorial Day Fly-in at Tuskegee, Alabama.
Sam Jones, Savannah, Georgia, the President of Negro Airmen International, said, He is very proud of his organization and he welcome the challenge and look forward to helping young people who might otherwise become part of the problem, instead, to become part of the solution." Jones added, "That he will cooperate with schools and local organizations that work with these young people to identify areas where our programs might be expanded to.

Contacts

---




State
Name




South Carolina
Clint Thompson
Georgia
Sam Jones
Maryland
Sol Hamilton
Massachusetts
Charles Cross
Michigan
Tyrone Davidson
Missouri
Joseph Robinson
Others
NAI Office